Did you hear? NRL Victoria x Club Respect partnership is go!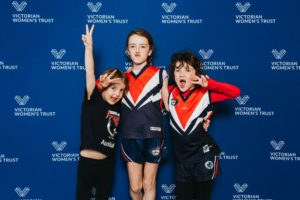 Club Respect co-founders Mary Crooks AO (Victorian Women's Trust) and Paul Zappa (Respect Australia) spoke to ABC News about Club Respect's partnership with NRL Victoria.
"For the NRL it's been a disastrous off season, with allegations of violence against women reaching crisis levels.
North Queensland's Ben Barba received a lifetime ban after a video emerged of him allegedly assaulting his partner at a Townsville casino during the Australia Day weekend.
St George Illawarra's Jack de Belin has been charged with aggravated sexual assault, and Manly's Dylan Walker faces charges of assaulting his partner.
On Thursday the Australian Rugby League Commission moved to limit the damage, announcing it would stand down players facing serious indictable offences while they were before the courts.
The commission said the new policy would help rebuild the rugby league's tarnished reputation.
Amid this backdrop, a new program is trying to stamp out violent and sexist behaviour before it begins by changing the "blokey culture" of youth sports clubs.
And it is women who have brought it into play."
---
Read the full ABC News article here.