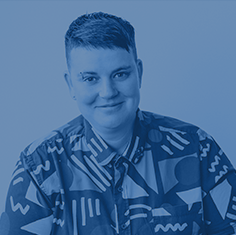 Joe Ball – CEO Switchboard Victoria
Joe Ball is the ever passionate and committed CEO of Switchboard Victoria. Switchboard Victoria is a leading LGBTIQA+ community organisation based in Melbourne that provides peer-driven support services to LGBTIQA+ people, their families and their communities. Joe believes in grass roots solutions to systemic issues and draws upon LGBTIQA+ history and the wisdom of LGBTIQA+ elders to guide their work. Joe spent their youth and teenage years volunteering as an Australian Surf Lifesaver, these days they incorporate a range of sporting activities into their life for both health and happiness. Joe identifies as trans non-binary and uses the pronouns they/them.
Visit Switchboard Victoria's website for more information.