12 of the Best from the 'Respect' Olympics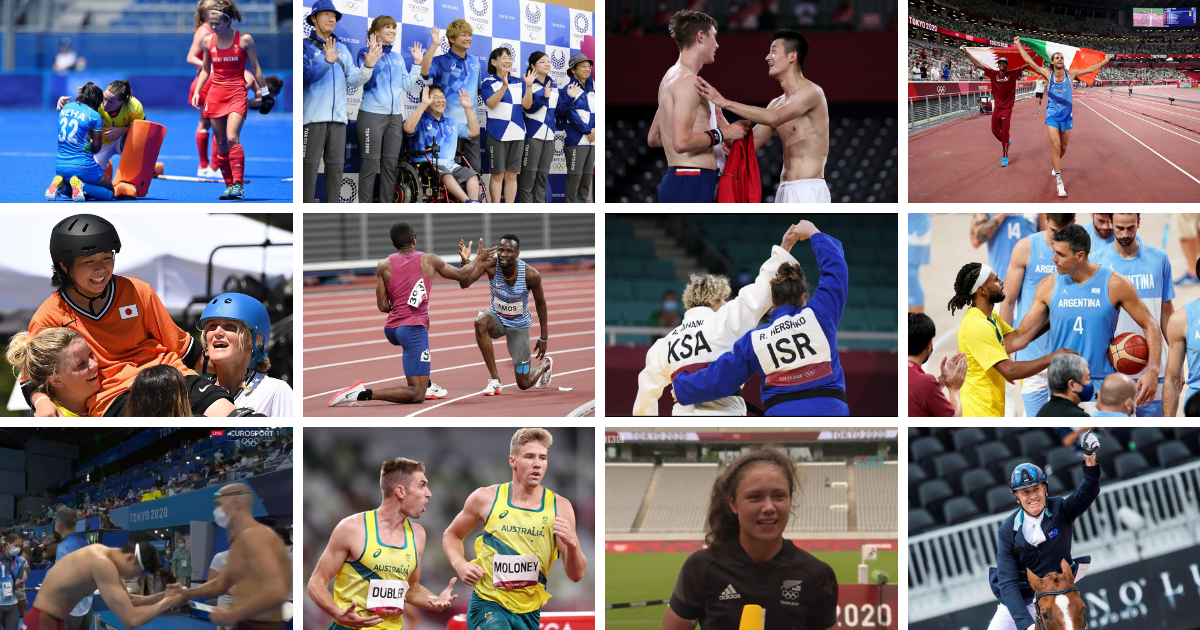 The Covid Olympics have been the 'Respect Olympics' and aligned completely with the three foundation values of Olympism – excellence, friendship and respect.
Here are 12 examples of the Olympic Spirit in which respect was shown and the world brought closer through the power of sport. #StrongerTogether
12. Team GB – Respect over celebration
When the Indian Women's hockey team lost 4-3 to Great Britain in the semi-final, a billion hearts were broken, and none more than the brave women of Team India.
Hockey is the national sport of India and the women's team has never made the semi-finals. Their best finish was on their Olympic debut in Moscow in 1980 where they came 4th out of 6 teams in a round-robin format.
They did it the hard way for the Tokyo Olympics with 7 squad members recovering after catching Covid19 in April 2021.
After staging an amazing comeback from 2-0 down to take the lead and then heartbreakingly lose 4-3 to Great Britain, the team broke down in tears, devastated that they had missed their gold medal opportunity.
Rather than celebrate, the entire Great Britain team consoled the Indian team, helping them deal with their anguish and congratulating them on their efforts.
On social media, the Great Britain Team said: "What an amazing game, what an amazing opponent. Team India you've done something special at #Tokyo2020 – the next few years look very bright."
Class and respect from Team GB – the Olympic spirit in action.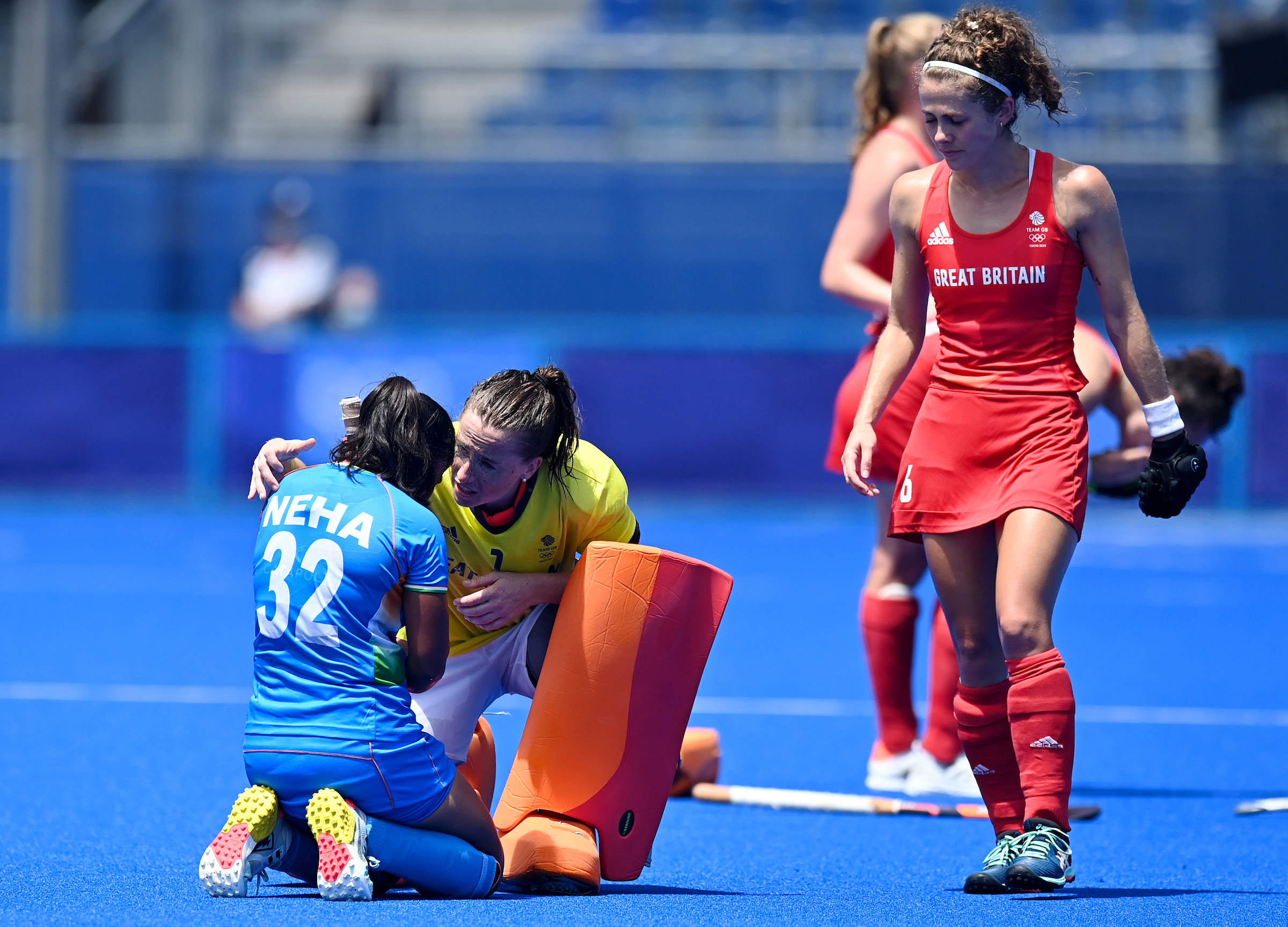 11. Wang Shun – Respect for the old guard
For four Olympic games in a row, Michael Phelps, the greatest ever male swimmer, won gold in the 200 metres leaving his competition to fight for the minor medals. When he retired, there was great anticipation as to who would fill his shoes, and in Tokyo, Chinese swimmer Wang Shun swam a brilliant race to claim gold.
In a heart-warming show of respect, newly crowned champion Wang walked over to Hungarian legend Laszlo Cseh on the pool deck, bowed to him and shook his hands to honour his outstanding career.
When Cseh was at his peak he was unlucky to swim in the Michael Phelps era and was never able to win gold (4 silvers, 2 bronzes).
It was a beautiful moment of respect and acknowledgment from a freshly crowned gold medalist for a giant of the sport.
10. Andrew Hoy – Vassily is my best friend

"I just continue doing what I love doing!" Words to live by and a salute to 62-year-old legend horseman Andrew Hoy who became Australia's oldest ever medallist in his 8th Olympic Games. Hoy won two equestrian medals – team silver and individual bronze to etch his name deeply into Olympic folklore.
He is the oldest Olympic medallist since Louis Noverraz, a 66-year-old Swedish sailor who medalled in Mexico in 1968. He is also now the oldest individual Olympic medallist since Swedish shooter Oscar Swahn in 1912.
No medals can be won in equestrian without a great horse and on his Instagram, Hoy sent out the highest praise to his horse Vassily de Lassos: "My best friend, soulmate & partner – I would be nothing without you."
For Hoy it all comes down to one word – respect: "I have a wonderful relationship with this horse and its respect. I respect him, he respects me and therefore there is that complete energy that comes out as one."
Inter species respect and co-operation – a truly beautiful thing!
9. Respect on the Judo Mat
A beautiful exchange of mutual respect took place in the women's Judo. Refusing to bow to enormous pressure from her community Saudi Arabian judoka Tahani Al-Qahtani agreed to a bout with Israeli opponent Raz Hershko.
Regional politics, a lack of any diplomatic relations between Saudi Arabia and Israel and no history of sporting links, all threatened to jeopardise their first round, 78 Kilogram match up. Arab athletes have traditionally boycotted any matches against Israeli athletes fearing they may be used as a form of recognition.
It was for many the ultimate form of respect for a fellow competitor, beyond any political ideology. Al-Qahtani not only showed up, but put her arm around Hershko and shook her hand following the match.
Following her 11-0 defeat by Hershko, Al-Qahtani said that she: "wasn't interested" in criticism of her for agreeing to face off against an Israeli opponent.
"I've turned off my phone for the past two days. It was a normal match. I lost but I feel OK – it's sport in the end."
Her Israeli competitor Hershko praised Al-Qatani saying: "I think it's amazing that we both put politics aside to do something we love."
For Hershko it was a brave move: "I think Tahani was brave and I knew it was rare for an Arab to accept a fight like this. We are the same athletes, we have the same dream, we have the same love."
Well played!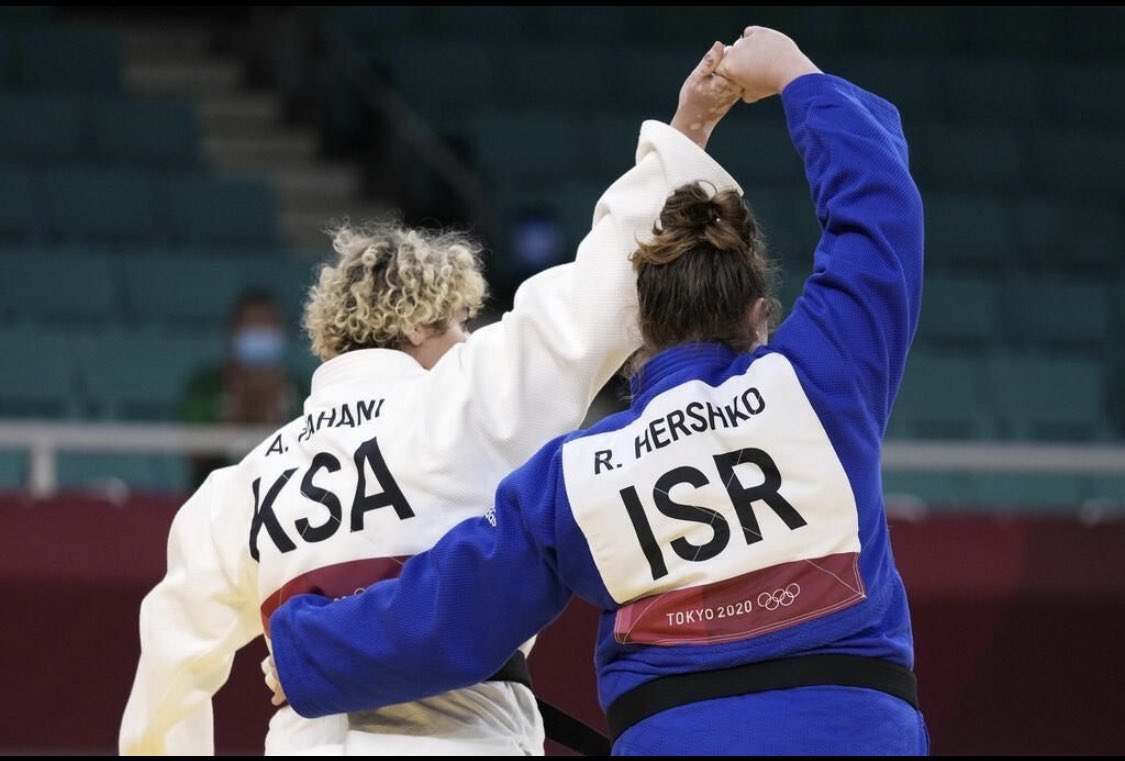 8. Farewelling an Argentine champion
The Australian Boomers were all class in their standing ovation for 41-year-old Argentine Olympic basketball star Luis Scola, showing wonderful respect and acknowledgment of their legendary opponents career.
Scola first played for Argentina in 1999 with his career highlight being winning a gold medal in 2004.
Without fans in the stands to say farewell to the 5-time Olympian, the Boomers players stepped in alongside their Argentinian counterparts to give him a spontaneous and deserving farewell when Scola was substituted in the last minute of the match, with Argentina well behind.
Scola acknowledged the display of respect, hugged his coach Sergio Hernandez, waved at the Boomers bench and cried, consoled by teammate Facundo Campazzo.
Great sportsmanship and a true Olympics respectful moment!
7. Badminton – an exemplar for respect
Badminton has been a high watermark for respect and sportsmanship across the world of sport. The men's final of the Tokyo 2020 games provided yet another example.
When Viktor Axelsen defeated Chen Long, he broke down in tears, hugged his coach and then headed to his opponent to commiserate. They spoke in Mandarin, hugged and then exchanged shirts.
Axelsen said: "I respect Chen a lot. He came over to my side of the court and told me I deserved it and I said thanks so much. He's been a big inspiration to me and asked me if we could exchange shirts and we did."
Axelsen also congratulated Chen on Sina Weibo, adding that Chen, the previous Olympic champion in Rio has been a major inspiration for his badminton career.
The 'win or lose' sportsmanship, camaraderie and respect between elite badminton players across cultures and genders, provides a great model for other sports to follow.
Great role modeling!
6. Cedric Dubler – A true team player
There were extraordinary scenes in the decathlon finale 1500m when injured Australian Cedric Dubler helped his exhausted young teammate Ash Moloney home to a bronze medal.
Moloney looked finished but he was superbly paced and motivated by Dubler, who was ahead of Moloney in the race and realising he was out of medal contention, stopped, waited and devoted his race to Moloney's shot at glory and Australia's first Olympic decathlon medal.
Moloney recalled: "I started hitting a wall at 800 metres and I was just putting one foot in front of the other. I was a bit concerned but I was like, 'just stick to Cedric. Don't let him get too far away."
Moloney said after the race that he could hear Dubler's voice: "bouncing in my cranium like a bat out of hell."
Dubler had an eye on the time and his passionate urging and pacing worked, with Moloney lifting a gear to finish and hold third place. Dubler knew Moloney had done it and himself raised his arms in the air 50m before he competed his own race in 22nd place.
"He's sacrificed his own event here just to help his teammate." Tamsyn Manou bellowed on the Channel 7 commentary.
Dubler said to the waiting media: "He had me worried for a little bit, then I just started screaming at him and we got him there."
Moloney and Dubler both train under the same coach, Eric Brown, and Dubler's role as senior mentor has been in place for years according to Moloney: "He's very important. He keeps me honest all the time. He always calls me out when I'm being a bit of an idiot. I can't thank him enough."
Respect, Mateship, Sportsmanship and Teamwork personified.
We all need a Cedric in our lives!
5. The High Jump – From friends to gold medallists
"History, my friend!" Emotions ran sky-high when Qatar's Mutaz Essa Barshim and Italy's Gianmarco Tamberi decided to share the Gold Medal in the men's high jump rather than competing in a jump-off after both cleared 2.37m.
In an unprecedented situation via a quirky rule, the athletes were asked to decide whether one man would hold the gold alone or they would share. They could have gone to a jump-off, but instead, they decided to share the gold.
Anybody aware of the backstory between Tamberi and Barshim would have known the outcome. They have been close friends for more than 10 years, sharing a bond on the global track and field circuit including Tamberi attendance at Barshim's wedding as a guest of honour.
When the official approached the exhausted jumpers, who had both failed to clear 2.39m, he had a dilemma. Under the rules, it was for the athletes to decide if one of them wanted to stand alone with the gold or would they share. Barshim asked: "Can we have two golds?" The official nodded and the men embraced each other, Barshim whispering: "History, my friend"
"We didn't even answer; we just enjoyed the moment because we want it so much. We are very good friends." Timberi said.
Barshim recalled his side of the surreal moment: "I look at him, he looks at me, and we know it. We just look at each other and we know, that is it, it is done. There is no need."
For a neutral arbitration, I mapped the incident against the three foundation values of the Olympic movement: Excellence, friendship and respect.
It certainly passed the test with flying colours.
The #OlympicSpirit at its finest.
4. Respect trumps medals in Skateboarding
Skateboarding has added greatly to the spirit of Tokyo 2021 with a refreshing group of competitors that support each other whilst still maintaining the competitive spirit.
When 15-year-old Japanese skateboarder and world number 1 Misugu Okamoto fell off her board in her last run in the women's skate park final, she lay on the ground and broke into tears at missing out on a medal in her home Olympics.
Showing the ultimate respect, her competitors including Australia's Poppy Starr Olsen, rushed into the skate bowl, hugged her, lifted her up and carried her out on their shoulders, cheering her off at the same time.
Magnificent camaraderie, sportsmanship and respect in full bloom.
Thank you, skaters!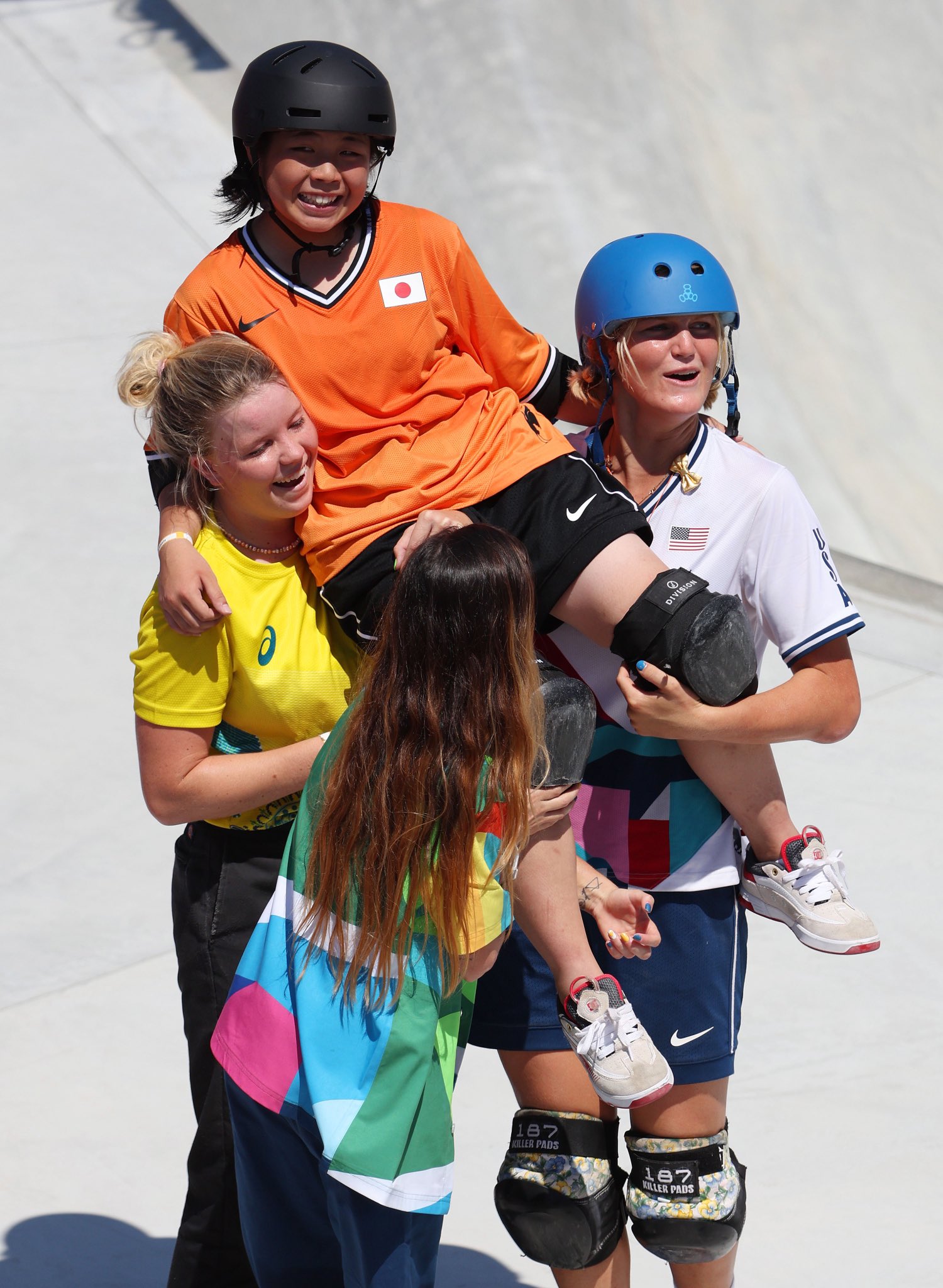 3. Ruby Tui – A masterclass in Respect
When the Black Ferns defeated Russia in the rugby sevens qualifiers, Ruby Tui stepped up for an interview with BBC's Jill Douglas and little did the fans know they were in for a masterclass in respectful, funny interviews.
Tui paid respects in language to her Samoan ancestors and Maori colleagues and was beautifully positive and respectful to her Russian opponents although the score was lopsided by eleven tries to zero.
The interview showcased Polynesian humility, exuberance, humour and cultural strength – all underpinned by respect.
She also revealed that members of the Black Ferns had contributed to Team GB's crowdfunding to get their team to Tokyo.
Funding your opponents! Next level sportsmanship and respect.
Thanks, Ruby!
2. The ultimate respect on the track
It's rare to see an act of respect and sportsmanship as painful yet uplifting as the men's 800m semi-final. Isaiah Jewett of the USA and Nijel Amos of Botswana were running in close proximity, got tangled and fell, ending their race and crushing their dreams.
After a brief moment of reflection, any anger subsided and they helped each other up and jogged to the finish line together arm in arm, blood running down Jewett's right leg.
Jewett said after the race: "It was devastating. He looked at me and said 'I'm sorry' and I said 'It's OK man, let's just finish the race'."
Jewett's values and life philosophy took over: "That was my version of trying to be a hero, standing up and showing good character even if it's my rival or anything happened. I don't want to show any bad blood because that's what heroes do. They show their humanity through who they are and show they're good people."
Amos shared his feelings on the incident: "You are all united by emotion. We felt all the emotion when we went down. When we stood up and just tried…to get home."
No hard feelings or blame. Just brotherhood, camaraderie and mutual respect for each other as competitors.
Bravo Isaiah and Nigel!
1. The Japanese volunteers – Respect in motion
The Tokyo 2020 games have been held in the toughest conditions ever, during a full Covid emergency and in sweltering heat. Despite these obstacles, thousands of Japanese volunteers have reported for duty and discharged their obligations with respect, honour and humour.
The volunteer story that captured the zeitgeist involved Hansle Parchment, a Jamaican Track and Field athlete who boarded the wrong bus attempting to compete in the semi-finals men's 110-metre hurdles, ending up at an aquatic centre.
Desperate to save his Olympic dream, he was saved by the intervention of Tiana, an Olympics volunteer who gave him the money he needed to get a taxi to the stadium and race.
Parchment went on to win a gold medal and after the Games finished, he tracked her down and returned her money, also gifting her with a yellow Jamaican Olympic shirt in gratitude.
Parchment said on his Instagram: "The Japanese people are the sweetest ever. Thank you my friend @d_treefairy,"
On social media, USA Olympic baseballer Nick Rickles offered his thoughts on behalf of the USA Team:
"I want to say thank you to Japan and thank you to the countless volunteers that helped make the Olympic experience perfect. I've never seen such consistent treatment showing respect, compassion and commitment to all."
Arigato Gozaimasu from the world!
Join the Club Respect mailing list
---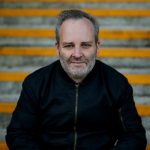 Patrick is a founder of Cultural Pulse, a leading micro-community marketing and engagement agency that has worked for the past 15 years on sports participation and fan engagement programs for over 100 communities. His recent book 'The Big O, The Life & Times of Olsen Filipaina' has gone into reprint and his stories on the intersection of sport, history and culture have been published by The Guardian Australia, the Age, the Sydney Morning Herald and Inside Sport. He is currently the proud coach of the Rockdale Raiders Under 8B1's.
Contact Patrick on twitter or LinkedIn
---
Previous articles by Patrick Skene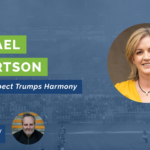 ---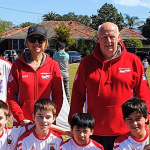 ---