"How do you build team culture at your club?" - Western Districts Youth Club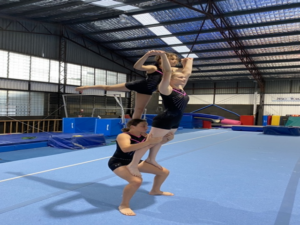 At Western Districts, we believe Club Culture is the cornerstone of all of our Activities. We strive as an organisation to produce Confident, Compassionate, Resilient, Healthy and Happy Young Adults within the club and we use Gymnastics as the Framework for how we do this. Keeping this in mind our culture is one of community and belonging, creating an environment where everybody feels welcome and included. This is not just for our member athletes but also for our staff as well as the members' extended families.
Part of doing this is emphasising that "success" or "winning" is achieving the goals/targets you have set for yourself, not just with trophies or medals around necks. This allows our community to set their own version of "winning" that is relevant to them, be it at a competitive event or one of our youngest members jumping with 2 feet off a box for the first time ever. We celebrate these successes with our members as setting their own goals and working towards them is one of the most important lessons we can teach.
We also like to celebrate our members' individuality and their own "style" in everything they do – "There will always be someone who you are better than, there will always be someone better than you, but there will never be anyone just like you".
Sam Simpson, Beijing Olympic Gymnast
Western Districts Youth Club
24 November 2020