Smart Plays: Changing club culture: Pemulwuy Shield
Club Respect's podcast, Smart Plays, tackles the difficult social issues in sport and explores our capacity for positive social change. In this episode, we speak with Daniel Bourke, who was integral in the formation of the Pemulwuy Shield at the Balmain Tigers Australian Football Club and in Sydney AFL's Indigenous Round.
Listen on: Spotify | Apple Podcasts | Google Podcasts | Amazon | Others
Overview
"If you don't stand for something, you'll fall for anything." This powerful quote is about the importance of making decisions guided by a set of values.
The values of a sports club aren't always so clear. But we know that success is essential, and so is creating an environment for people to connect. It's also a place to help people grow, learn, and understand the world around them.
A club with a culture of respect acknowledges that there will be differences of opinion and disagreements. They recognise that people have their own stories that are worthy of being told.
But some stories don't get told. The struggles of people who don't find sport as inclusive or welcoming. Their stories are usually told through campaigns that raise awareness, such as mental health, Pride in sports, First Nations culture, women in sports and anti-racism.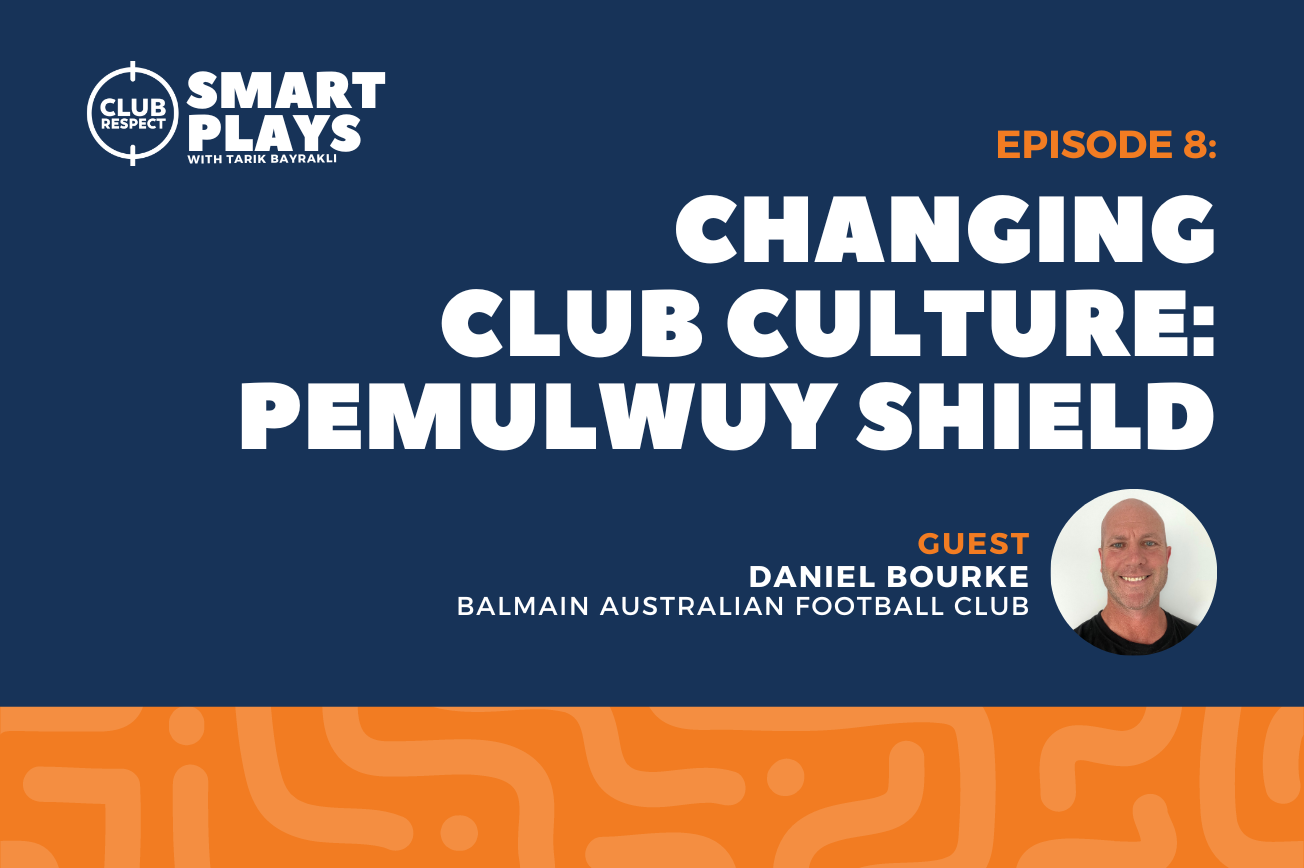 In recent years, we've seen some of these initiatives fail. Ironically, for not respecting those who have opposing views. The example of the Manly Sea Eagles pride shirt and player boycott still strikes fear in clubs wanting to establish themed rounds.
However, with genuine consultation, clubs can build knowledge from the ground up. They can demonstrate that the issue is vital for the local community, their neighbourhood, and members. The ongoing nature of the consultation gives it credibility and becomes the critical first step towards building greater advocacy.
In this episode, we spotlight the Balmain Australian Football Club, an Aussie Rules footy club based in Sydney. They developed a campaign to increase awareness of First Nations culture and created the Pemulwuy Shield to honour the local Aboriginal warrior.
We speak with Daniel Bourke, who was integral to forming the Pemulwuy Shield and taking it up as a permanent fixture in the Sydney AFL's Indigenous Round.
A great motivator in his gym and footy communities and an active supporter of First Nations people and Recognition. Dan shares his insights into the development of the Pemulwuy Shield.
More info: 
Dan Bourke's Instagram
Balmain Tigers launching the Pemulwuy Shield along with the Uluru Statement from the heart – AFL Sydney video [1:37mins]
The Australian Wars (SBS On Demand) – Rachel Perkins journeys across the country to explore the bloody battles fought on Australian soil and the war that established the Australian nation, seeking to change the narrative of the nation