Female footy umpiring crisis
In each fortnightly episode of Smart Plays, Tarik and special guests will be tackling difficult social issues in sport and exploring our capacity for positive social change. In this episode we speak with Victoria Rawlings and Damian Anderson who are the co-authors of the report: Girls and women in Australian football umpiring: Understanding registration, participation and retention.
Check out the episode to hear Vic and Damian talk about the challenges for female footy umpires and umpire culture.
Listen on: Spotify | Apple Podcasts | Google Podcasts | Amazon | Others
Overview
Victoria and Damian are on the front line of trying to improve what has become a dismal situation, the improvement and conditions and respect for female umpires in Aussie rules football.
Their breakthrough report, 'Girls and women in Australian football umpiring' rattled a few cages after it was leaked to the media a few months ago, the data exposing significant issues in the sport in relation to abuse, harrasment and sexism of grassroots and state league participants.
Acting AFL chief executive Kylie Rogers apologised: "On behalf of the game we apologise to any woman who suffers harassment or sexism of any kind, and would encourage them to report it to their local club, to their league or to the AFL itself."
The report addresses the issues in Umpire club culture and identifies the next steps (and recommendations) for the AFL and other sport codes to consider.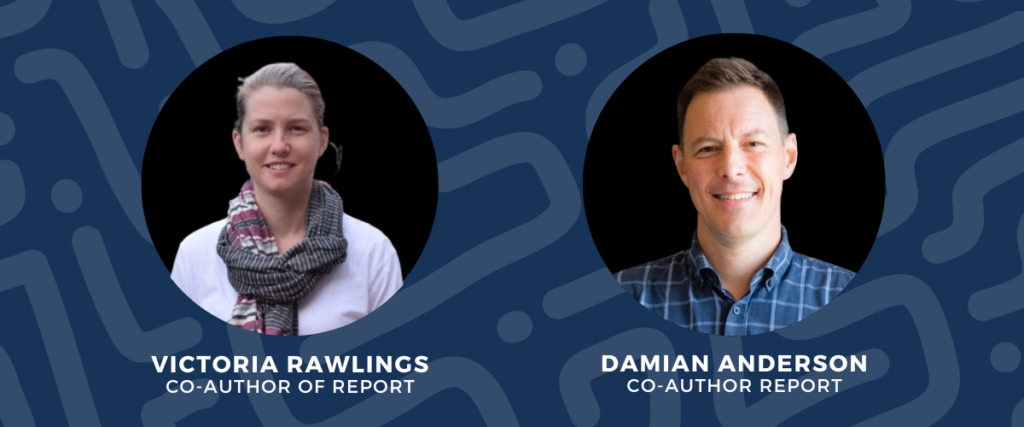 Key takeaways
"We had several key findings. It's actually really hard to focus on one, they feed into each other. If we're thinking about someone's experiences as an umpire, we can think about, OK they go to training twice a week, they have a game on a Saturday or a Sunday, as a regular kind of experience. Some people go to more and some people go to less, but it's an environment where they have teammates or peers around them. They have coaches around them. They have access to coaching resources, they have access to change rooms. There's like this kind of common experience.
But our findings really show that there's a difference between the experiences of one group versus another group. And when I'm talking about that, I'm talking about gender. There's a real difference in the encounters that girls and women have with those very common experiences and those common resources, you have to understand that every aspect of an umpire's experiences are coloured at the moment by gender, by their gender." – Vic Rawlings 
Here are some of the lessons learned throughout the episode:
Only 10% of grassroots community umpiring are females. It was expected to rise alongside AFLW, but it didn't. The report was commissioned to find out why.
Having change rooms that are appropriately designed is a good thing, but it's not the main issue. Copping abuse from players and spectators is a bad thing, but this too was not the reason for female umpiring crisis.
Umpiring club culture includes a group of umpires and a umpire coach that all trains together in weekly scenarios. The culture established in these groups is the issue. Female umpires identified a lack of support, care and guidance, especially when receiving racist, sexist or homophobic abuse.
Notable moments
Short on time? Check out some of our favourite moments during this interview between Tarik, Vic and Damian.
5:09 – So, why is it happening? 
The study essentially found that every aspect of an umpire's experiences are coloured at the moment by their gender. Vic paints a picture of what it's like at trainings and match days, showing how at every point there are gender-specific challenges for girls and women with their umpiring peers, their umpiring coaches and club players and coaches. It's relentless and it isn't surprising females aren't signing up in droves to umpire AFL matches.
12:35 – What respect looks like 
When respect happens, we know the feeling. Vic recounts a story towards the end of her umpiring career that summed up her feelings of inclusion and belonging in the umpiring world.
16:12 – Is it easy to report abuse? 
Not really. Match-day reporting has better protocols, but we found out from some experiences in the study that the umpire coach either wasn't that approachable, potentially was even worse or part of the problem. That kind of reporting mechanism isn't going to determine the full picture of abuse experienced in clubs.
22:18 – Only 7% 
A remarkable statistic that only ~7% of umpires surveyed said they'd left because of abuse. This is consistent with soccer and rugby league.
27:22 – What's the next step towards greater respect for female footy umpires?
What's next? The report has gone public, there's been an apology by the AFL and now…? Vic and Damian have put up the 11 recommendations from the report as a starting point.
Links
We covered a lot in this episode! But, here are some notable links:
Want to be in the know about all things Smart Plays?