12 of the best 'Respect Moments' from the Paralympics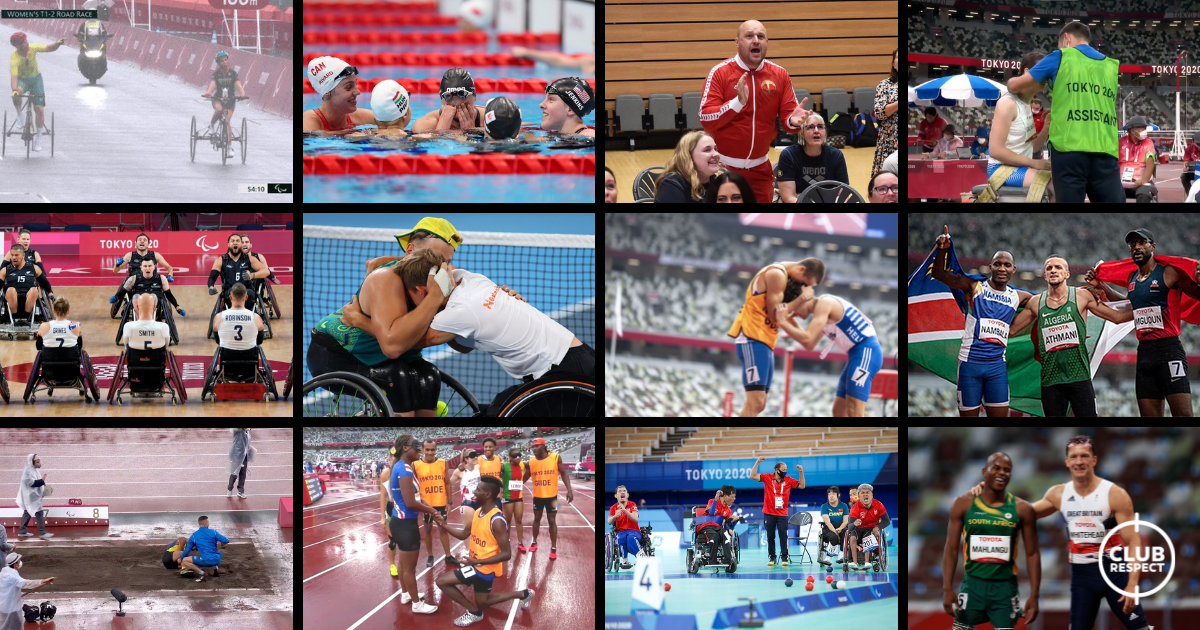 The Tokyo 2020 Paralympics continued the honourable spirit of the Olympics providing great moments of inspiration and the athletes, guides, coaches, officials, media and volunteers all lived and breathed the International Paralympic Committee values of Courage, Determination, Inspiration and Equality.
Here are 12 moments that showcased the Paralympic spirit of mutual respect that brought the world closer in a dark time.
12. Respect for First Nations culture
The tone of respect for the Tokyo 2020 Olympics was established with authority on Day 1 of the Paralympics when the New Zealand wheelchair rugby team, 'The Wheel Blacks' took the court for its first game.
Amidst the skill and tough physicality of wheelchair rugby is extreme respect between competitors who have all faced herculean challenges to participate.
The mutual respect was in full bloom when the USA team faced off against the New Zealand traditional Haka before the game, led by Hayden Barton- Cootes. The USA team received the Maori ceremonial challenge with respect and applauded at its completion.
Great to see ancient First Nations cultures being incorporated and respected.
11. Partners on and off the track
The only thing missing from the Tokyo Paralympics was a marriage proposal. But wait…. love was in the air when Guide Manuel Antonio Vaz da Veiga, proposed in front of the world to his visually impaired athlete/girlfriend Keula Nidreia Pereira Semedo after she came fourth in her 200m heats.
Thankfully for Manuel, Keula accepted and the Cape Verdean couple are now bound on and off the track!
To quote Paralympics.org: "May the two of them run together for life!"
10. Respect to the coaches
A salute to all the Paralympian coaches who dedicate their lives to their athletes, often for little or no financial compensation.  The coaches nurture their athlete's dreams, and manage the logistics with athletes often requiring additional time, equipment and transport resources to compete. The respect and selflessness they show for the athletes is extraordinary and it's so uplifting to see coaches celebrating victory.
There were wonderful and heartfelt emotions from Great Britain swimming coach Andy Sharp who was overcome with joy for his swimmer Maisee Summers-Newton's gold medal.
He knows the effort that her achievement has taken and the self doubts that had to be overcome.
A beautiful moment.
9. Boccia sportsmanship
The pure essence of the Paralympics! Beautiful scenes as Thailand defends its Boccia title against China with both teams bursting with emotion, respect, sportsmanship and passion.
Although the Chinese team was clearly disappointed, they shared the joy and love with their Thai opponents.
A magnificent example of the power of sport to unite!
8. A salute to the Guides
The 'Guides', able-bodied athletes that accompany track and field athletes, unselfishly devote their lives to running alongside their athletes from every training to every track meet all the way to the Paralympics. They are interviewed with their athletes and share the joys and pain of competition with the athletes getting the medal, but the Guide getting the satisfaction of service to others and improving lives.
When Athanasios Ghavelas of Greece and his guide Sotirios Gkaragkanis broke the world record for the T11 100 metres, the delirium of both men was a joy to behold.
Ghavelas developed a vision impairment at age 10 and started running at 15 culminating in his speedy 10.82 seconds gold medal run, improving the record by 0.06 seconds.
Ghavelas notes the crucial importance of the right 'Guide', one of the most unique roles in sport: "You need a companion in the race that you can work in absolute harmony. In fact, your companion must have a better performance than you, so that he does not delay you in the race. You have to have excellent coordination, to move like a single body. The hands and legs movement must be absolutely coordinated. This requires hard practice in training."
In addition to the on-track synchronicity, the off-track relationship is also important with Ghavelas describing his relationship with his guide Sotirios as: "a good relationship. We've known each other for many years. We are very happy moving forward together. We train together. We work to be our best. It is necessary to be the same, 100 percent essential. Your sighted companion can't be tall and you, short."
He ain't heavy, he's my brother!
7. Chantalle Zijderveld – One in all in
A beautiful moment of respect took place in the Women's 200m Individual Medley SM10 when the Netherlands' Chantalle Zijderveld surged home to set a new world record.
After a moment of joy and then reflection on the enormity of her achievement, she breaks down and is surrounded by her fellow competitors from around the world who share her emotional victory.
When Chantalle composed herself she expressed her appreciation on social media: "Thanks girls, it was a pleasure to race with you these past years."
A great moment of mutual respect between athletes.
6. A friend in need for Evgenniia
Oh, the humanity! When Russian shot putter Evgeniia Galaktionova threw long enough for a bronze medal she broke down, inconsolably, alone on her chair. The emotion was so overwhelming that the Games Assistant stepped in to give her a hug in her bittersweet moment.
Galaktionova had been the favourite but had been relegated by two World Record throws of her opponents. Elite sport can be a lonely place when it doesn't go to plan and it was tough watching until she received the consoling hug of a stranger.
"There are no strangers here; Only friends you haven't yet met." William Butler Yeats
5. Battle of the Bladerunners
A rivalry for the ages!  One of the standout matchups of the Paralympics was 'The Battle of the Bladerunners' in the 200m T61 sprint. In the blue corner was the reigning Paralympics 200m T61 champion, Richard Whitehead, Great Britain's legendary 45-year-old double gold medallist.
In the red corner, separated by 26 years, was South African rising star 19-year-old Ntando Mahlangu who as a 14-year-old had won silver behind Whitehead in Rio and was coming for gold.
The narrative was bursting with possibility. Old bull vs young bull. Would the baton pass from student to master?
In the race, Whitehead took an early lead but after an epic battle down the home straight, Mahlangu prevailed with Whitehead bravely chasing till the end to win the silver medal.
The respect was on show in an emotional medal presentation where they hugged deeply and presented each other with their medals, both honouring each other with excellence and camaraderie.
After the race, a graceful Whitehead said: "This isn't about a race, it's about the human race."
Mahlangu said: "A dream does come true. It was a beautiful night. I'm going to enjoy the moment when I go to bed and put both the medals next to each other and sleep with it."
Then they both went their separate ways, Mahlangu returning to South Africa to complete his high school exams and Whitehead back to England to resume his life as a celebrity, public speaker, Nike Athlete and marathoner.
They could not lead more different lives but sport brought them both together in the most beautiful way.
Paralympics.Org summarised it sweetly: "Friends first, competitors second"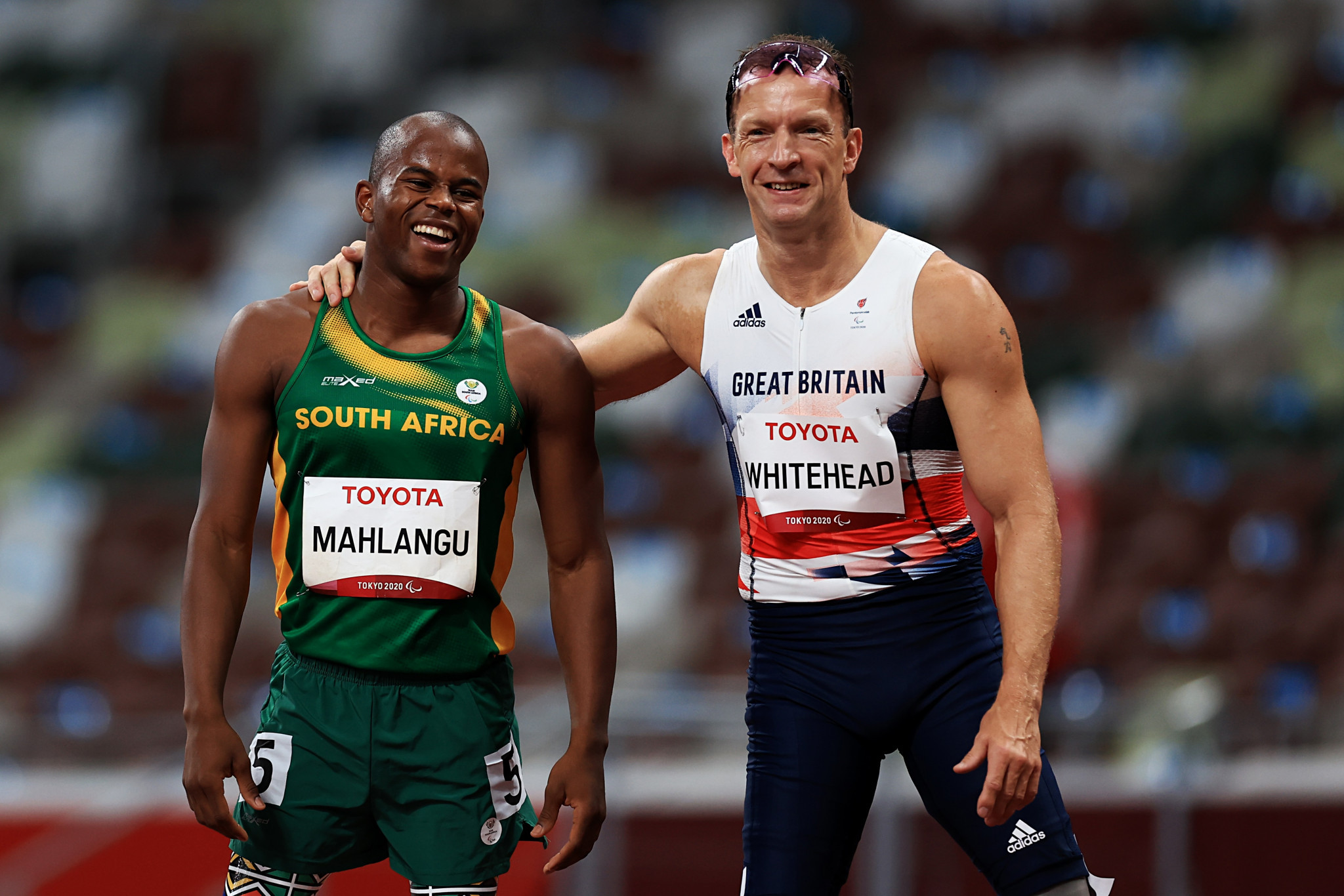 4. Respect beyond Politics
In the week leading up to the Tokyo Paralympics, Algeria announced it was officially severing ties with Morocco after months of high tensions over historical disagreements.
Tensions were high as the two nations awaited the major showdown in the men's 400 metre T13 event where world record holder Morocco's Mohamed Amguoun faced Algerian Skander Djamil Athmani.
In a titanic tussle the Algerian Athmani defeated his Moroccan opponent, setting a new world record and setting off joyous scenes in the Algerian camp.
Any awkwardness or tension was immediately diffused after the race when the two athletes embraced and provided some much needed positive news between the two countries.
What politics separates, sports unites!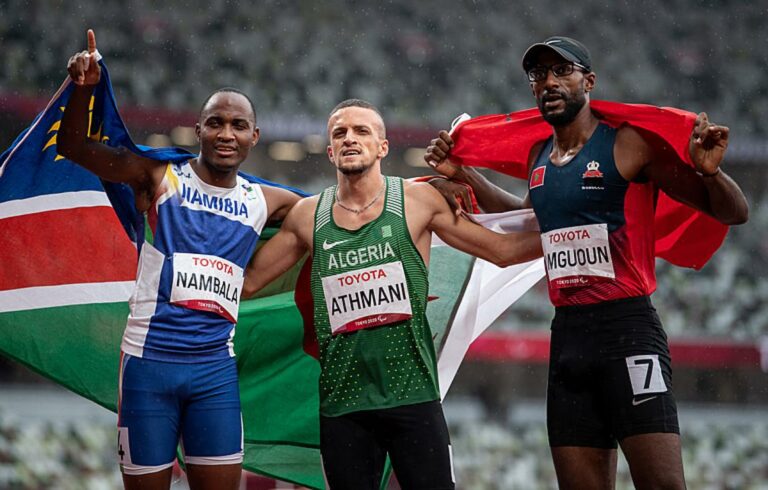 3. Athanasios Prodromou – the right spirit of competition
A powerful moment took place in the heat of battle in the long jump pit when Greek silver medallist Athanasios Prodromou rushed to the side of Malaysian gold medallist Abdul Latif Romly who was injured during his 5th jump.
It was a spontaneous and beautiful moment enjoyed by millions.
2. Stuart and Toni
Another unlikely odd couple created a beautiful shared moment for the world to enjoy in the cycling road races when Australia's Stuart Jones sacrificed his own race to encourage South African female rider Toni Mould, who was exhausted and lagging behind the field.
Already out of medal contention, Stuart decided to slow down to help a fellow competitor: "If I could help her up the hill, what's a place? If I come 6th, who cares?" Stuart told Channel 7.
Mould, who rides with cerebral palsy, was a lap behind the pack and struggling in the torrential stormy conditions. Jones rode with her, sharing words of encouragement to finish, all delivered with a smile.
Jones spoke about the background to his strategy: "I knew that Toni wasn't the best climber, bit like myself. At this point I wasn't going to podium and I knew how hard that climb would be on her own, so I basically ceased my race there and then and put everything into encouraging Toni to climb."
Toni sent a message to Stuart from the airport said he: "did something for me today that I will never ever forget."
Back in the Channel 7 studio, Three-time Paralympic gold medallist Kurt Fearnley put Stuart's sportsmanship down to the strong team culture: "That's what we hope the green and gold does. It doesn't just look after the green and gold. If you can, you go out there and you show the sportsmanship that we all feel proud of. It was a beautiful moment."
Stuart had the final word on Toni: "She is a true champion, that's what the Paralympics are about."
1. Dylan Alcott – Three great acts of respect
a) On Court
Incredible scenes of sportsmanship, emotion & respect in the Paralympics wheelchair tennis semi final as Aussie Dylan Alcott shared an emotional embrace with young opponent Niels Vink after a titanic struggle.
After winning match point, Alcott screamed with joy and then wheeled himself to the other side of the net to congratulate his Dutch opponent and the two embraced:
"He's half my age, what a little legend he is, Niels," said Alcott, who described himself as an "old man" but retains a deep love for the sport and nurturing the next generation.
"When I hugged him at the end he was in tears. He wouldn't let go and I just said I was so proud of him, how well he played."
"I know he read my book growing up. I sent him a birthday video for his 18th (birthday). We're mates."
30-year-old Alcott is the world number one and defending gold medallist but admits he was on the brink of losing to his 18-year-old opponent before fighting through cramp and fatigue.
"I thought I was done there, I just reminded myself to enjoy it. That was the best match I have ever been a part of, it was special " Alcott told Channel Seven after almost two and half hours on court.
It was a classic thrilling old bull – young bull match-up featuring remarkable rallies and Alcott needed to summon every trick and emotion to overcome his hungry opponent.
Alcott showed he is an incredible fighter and finally prevailed in three sets to progress to the final against Sam Schroder also of the Netherlands and continue his dream of a "Golden Slam" — to win all four tennis majors and the Paralympics gold medal in the same calendar year.
Through the rollercoaster of emotions, Alcott remained grateful to the Paralympics movement: "I just love what the Paralympics represent. It saved my life, it honestly did."
Thank you both for a magic carpet ride of excellence, class and mutual respect.
b) In Retirement
Majestic! Dylan Alcott's Paralympics retirement speech is a masterclass in humility, vulnerability, comedy & gratitude. After thanking & encouraging his teammates & opponents he shared a beautiful story from his journey with interviewer Johanna Griggs:
"I don't know if you remember this but I did 'Better Homes & Gardens' with you Griggsy and I was on a disability support pension, but I didn't even have a garden in my apartment, I had nothing."
"We had to go to a garden near my house because I had nothing to show but you wanted to tell my story when I was nobody and that meant so much for me."
Discussing his retirement, he knew his time was up when after his gold medal victory, he felt joy and not relief that it was over: "I stopped, I looked up and soaked it in for what it was – one of the best moments of my life. And I'm glad I did, because normally you rush through those moments."
"I'll remember that forever, sitting on that court and podium by myself, from a fat kid who got bullied about his disability, who absolutely hated himself, to easily the luckiest person I know and I never thought I'd be that person."
c) Rolling up the sleeves
Rain stopped play when the roof had to be closed in the first set of Dylan Alcott and Heath Davidson's doubles match against Dutch duo Niels Vink and Sam Schroder.
When the volunteers came onto the court to dry the court, Dylan joined them cleaning the court with a towel.
He says his real purpose, beyond gold medals and Grand Slams  is… "trying to change perceptions so people with a disability can do whatever they want to."
Including helping out the Games volunteers!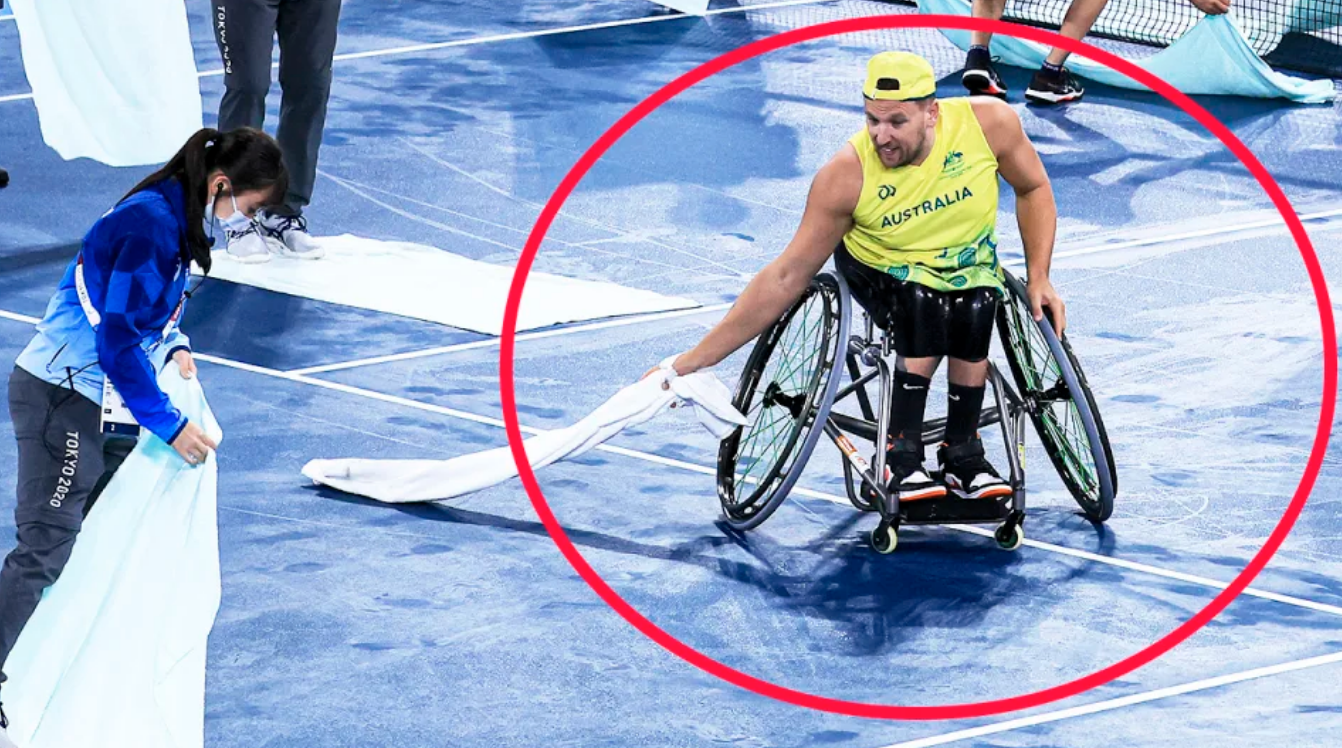 Thank you Dylan – it's been a pleasure and you are the essence of the Paralympics as a respectful athlete and competitor.
#StrongerTogether
Join the Club Respect mailing list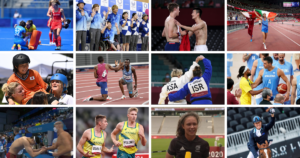 Other articles by Patrick Skene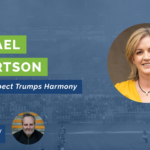 ---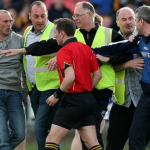 ---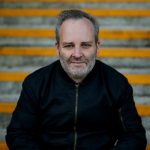 Patrick is a founder of Cultural Pulse, a leading micro-community marketing and engagement agency that has worked for the past 15 years on sports participation and fan engagement programs for over 100 communities. His recent book 'The Big O, The Life & Times of Olsen Filipaina' has gone into reprint and his stories on the intersection of sport, history and culture have been published by The Guardian Australia, the Age, the Sydney Morning Herald and Inside Sport. He is currently the proud coach of the Rockdale Raiders Under 8B1's.
Contact Patrick on twitter or LinkedIn
---